---
Choose additional country / region / language Milwaukee Tool websites
Select Other Site
REDLITHIUM™ USB Pivoting Flashlight
Our REDLITHIUM™ USB Pivoting Flashlight offers high output in any task and any position. It's powered by REDLITHIUM™ USB, giving you high output light for any task from any position. The flashlight features spot and flood beam modes allowing you to change it from a high-powered flashlight to a versatile task light with the press of a button. With 500 lumens of TRUEVIEW™ High Definition Output and a 155-meter (377 feet) spot beam distance, it gives you the ability to search, trace, or inspect better from farther away. In flood mode, the LED flashlight's 110° pivoting light head and magnet base provides you with hands-free task light, while directing the light exactly where they need it. Maximize brightness or extend runtime with high and low flood mode options with up to 12 hours of runtime. Turn the flashlight into a right-angle light with a built-in pocket clip designed for chest pockets and straps. The REDLITHIUM™ USB Pivoting Flashlight is powered by the REDLITHIUM™ USB 3.0AH Battery, providing all-day run-time, more recharges, and 3x faster charge time. The Milwaukee REDLITHIUM™ USB Battery can be recharged in the flashlight via Micro USB or swapped out with additional REDLITHIUM™ USB Batteries for virtually no downtime. The MILWAUKEE® REDLITHIUM™ USB Pivoting Flashlight is great for any trade professional looking for the ultimate lighting versatility and is covered by a limited lifetime warranty.
REDLITHIUM™ USB Pivoting Flashlight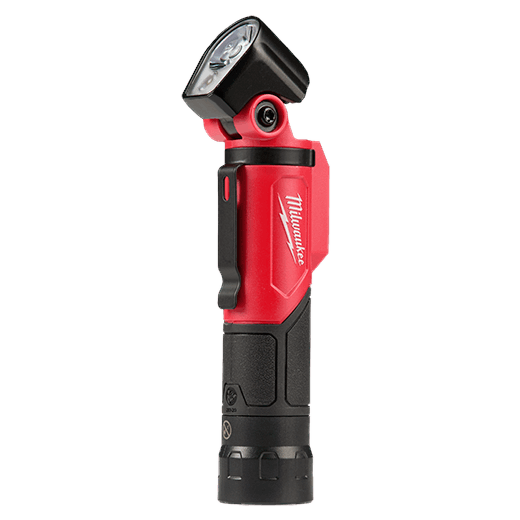 HIGH OUTPUT. ANY TASK.
ANY POSITION.
Adapts
110° Pivoting Head with Spot & Flood Beam
Magnetic Base for Hands-Free Use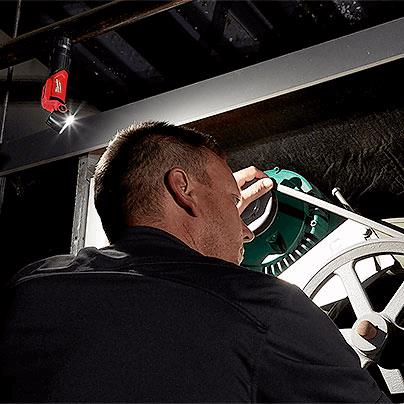 Performs
500 Lumens of TRUEVIEW™ High Definition Output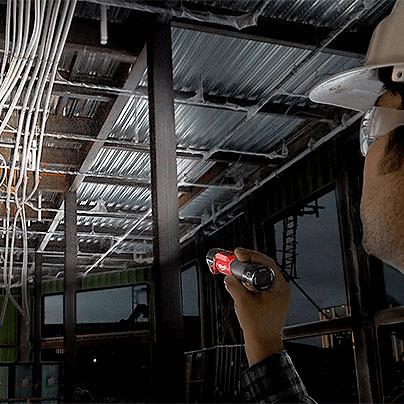 Survives
IP54 Rated: Water and Dust Resistant
Impact Resistant
Corrosion Resistant Body and Lens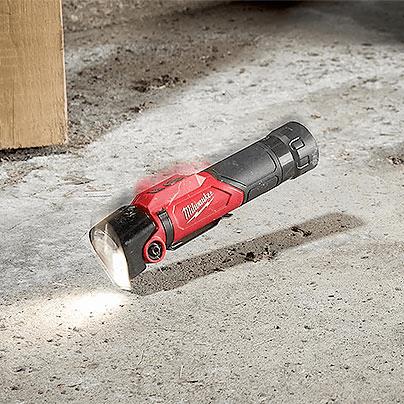 2 ft. jobsite tough, braided micro-USB cable with metal ends
3X faster charge time delivers 80% charge in under 1 hour (*Using 2.1A compatible wall plug)
Charges REDLITHIUM™ USB battery internally with micro-USB cable from USB power source or AC outlet (wall plug not included)
Fuel gauge allows fast checking of REDLITHIUM USB battery charge
IP54 Rated: Water and Dust Resistant
Metal pocket clip for hands-free right angle lighting
Light and LED limited lifetime warranty; 2 year warranty on REDLITHIUM USB battery
Three light output modes: Spot high mode: 500 lumens- 2.5 hours; Flood high mode: 400 lumens- 3 hours; Flood low mode: 100 lumens- 10 hours